History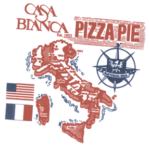 Story from the Summer 2005 Eagle Rock Historical Society News
Letter
This year is an occasion for celebration. One of Eagle Rocks best restaurants is 50 years old. Even the possibility of this happening would probably not have occurred to Sam and Jennie Martorana when they opened Casa Bianca with Sam's brother Joe in January 1955.
They moved here from Chicago with three young children to join the rest of the family here in Los Angeles.
Sam found a corner storefront in eagle Rock that was owned at the time by Charlie Morreale. Using the skills learned at his fathers grocery business and working for Tony's Pizza in Chicago, he opened a restaurant and deli.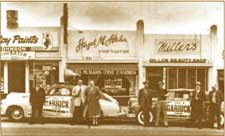 The recipes came from the Italian tradition passed down through their families. The ethic of hard work came from Sam's father, a strong Italian paterfamilias and Jennie's mother who supported her family with factory work after her husband was disabled by a stroke.
The quality of the restaurant is based on personal attention and consistency. All of the food is made from scratch on the premises. The family is vigilant to maintain the food just as it has always been. Old customers can expect to have the same quality family experience as they remember. A surfeit of good publicity has made it difficult to get in without waiting, but a little planning and perhaps a call ahead can ease the way.
The staff is trained under Jennie's watchful eye. Many start out making salads and work their way up waiting tables. The emphasis on training young local people has passed on the work ethic and enabled many to complete their schooling while working nights and Casa Bianca.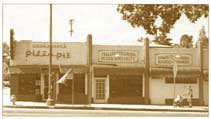 Today Sam and Jennie have been joined by their son and daughter, Ned and Andrea, ensuring the continuity of this Eagle Rock institution. Jennie can still be seen in the kitchen and Sam is around daily to supervise the making of the sausage and other mainstays.
The fabric of the community is made of the efforts and ambitions of individuals and families. Their success forms the basis for the vitality of the community. We are grateful to the Martonrana family for their 50years of creativity.
Casa Bianca Present Day
The Pie
The best Chinese restaurants, always by definition, seems to always be at least 20 minutes from where you happen to be, in Chinatown if you where on the Westside, in Roland Heights if you live in Norwalk. All the best Thai places are in neighborhoods you probably can't find without a Thomas Guide.
The best pizza place, though, is always the most passable one within striking distance of your home, because having pizzeria be great is less important than having it be right there, someplace to drop into on the way to the movies or stop by for a takeout on the way home from work or to feed three kids and get change back from your twenty. Damiano's if you live near Fairfax, Vittorio in the Palisades, Mama Petrillo's in Temple City, Jacopo's if you live in Beverly Hills-the absence of schlep seems to magically season pizza the way a picnic basket flavors fried chicken. Plus, you actually get the pizza home while it's hot.
But of all the neighborhood pizza parlors out there, each of them touted as the best in the Southland, one of them actually has to be the best. And after chomping my way through half the pies in Los Angeles County- I had to; my local La Strega, shut down last year-I'm pretty sure that the Casa Bianca Pizza Pie is the one. I realized I was on the right track when a mild-mannered View Section reporter, fond of exchanging restaurant gossip, suddenly turned ugly when I asked him about the place.
"You realize that if you write about Casa Bianca" he said. "I'm going to have to kill you. Slowly After I break both of your legs. It's hard enough to get in on a Saturday night as it is.
Casa Bianca is located on a lonely stretch of Colorado dominated by small apartment buildings and Rose Bowl motels, somewhere between Highland Park and Eagle Rock and usually a long block from parking space. It's classic neon "Pizza Pie" sign a massive old thing, glows in a nursery pink and blue. From the outside, it sometimes looks all misty and gloomy, like something evocative and late 40's out of an arty new-wave gangster film.
When you step into the foyer, you're whomped with the smell of garlic and the roar of many, many people being happy. The walls of the waiting area are plastered with autographed celebrity photos-Ernest Borgnine, the metal band Junkyard, a young and cute Ed Asner-and a Perma-Plaqued 1973 interview with the owner from what looks like a produce-company journal. Sam Martorana has apparently been running the place since early in the first Eisenhower administration.
Tables are covered with red-checkered tablecloths, there are a zillion Morettii beer signs on the walls: red pepper flakes and grated cheese are right next to the salt and pepper shakers; the wine selection is limited to pink, white and red. If you listen hard, you can hear big-and music from the speaker's overhead. This is the pizza parlor all Americans have been conditioned to look for since early childhood.
The Salad to get is something called "1/4 Head Lettuce" which is a big crisp wedge frosted with anchovy fillets, drizzled with Italian dressing, and surrounded with big heaps of chopped black olives, hot peppers and red-ripe tomatoes, something you might expect to have found at a Chicago steak-house in the 50's.
Pastas, most of them, are just OK: Lasagna, Linguini and Clams, Spaghetti with Marinara sauce. Mostaccioli with sausage, all bathed in industrial-strength tomato sauce and pumped up with breathtaking amounts of garlic, Veal Parmigiana, while on the crude side, is actually kind of tasty.
And the pizza…well, the pizza is just the best, especially the sausage pizza: speckled with sweetly spiced homemade sausage, shot through with mellow cloves of roasted garlic (if you order them) and topped with plenty of the kind of Mozzarella cheese that forms something as tangly as the cords on an old fashioned telephone switch-board when everybody has taken his or her slice.
Tomato sauce is sparingly applied, a bit of tartness to cut through the richness of the cheese and the sausage (the eggplant topping, lightly breaded, is pretty good too); the cheese and sauce reach nearly to the edge of the crust, which lets you avoid the touchy problem of what to do with all those leftover pizza edges. The crust is chewy, yet crisp enough to maintain rigidity while you maneuver it toward your mouth; thin, yet thick enough to give the sensation of real, developed wheat flavor, and with enough carbony, bubbly burnt bits of to make each bite slightly different from the last. And any leftovers taste superb with morning coffee.
In other words, Casa Bianca makes a pizza worth driving across town for. But leave Saturday nights around 7 for my friend. OK? I sort of like my legs the way they are.
Story featured and printed in Los Angeles Time Food Section, October 10, 1991. By Jonathan Gold.